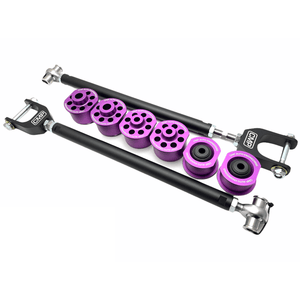 E46/Z4 Suspension Bundle
Regular price
$836.00
$0.00
Unit price
per
Fits: All E46 Non-M, E46 M3 & E46 hatch.
Contents:
-E46/Z4 Solid Subframe Raising Bushes
-E46/E36/Z4 Monoball Rear Trailing Arm Bush
-E36/E46 Adjustable Camber Arms
Benefits:
-Solid mounts the rear subframe to the chassis (Braces the chassis)
-Stiffens the rear end feel (driver feedback)
-Provides consistent suspension geometry (stability)
-Free pivoting spherical bearing (no suspension binding)
-Increases transient response to throttle input (control)
-Increases rear camber & toe adjustment (Suspension Tune-ability)
-Increases driveline stiffness (control)
-Raises the subframe to improve roll-centre & toe geometry on lowered cars (more grip)
Note: Solid subframe bushings & spherical camber arms will not increase NVH. Solid mounting the trailing arms to the chassis will increase NVH when driving over road imperfections only.
Options:
- No rod ends boots, bearing exposed to elements
- Yes rod end boots, to seal the bearing from moisture & dirt ingress
Recommendations: 
-Non-M E46's - replace the lower RTA bush to M3 spec ball joints. P/N: 33306852895
If you're looking to upgrade the handling of your E46 chassis to the best it can be then, this suspension bundle is the perfect choice for you as it includes every arm and bush worth upgrading from stock on an E46.

This product pairing is based on years of experience setting up and tuning BMW chassis having trialed all sorts of bushing materials and combinations to conclude with this perfected setup.

This setup is designed to optimise vehicle kinematics while also balancing the compromise between performance and Noise Vibration & Harshness (NVH).
---